Loch Lomond is a freshwater lake (Scottish lake). It is located between the highlands of Scotland and the lowlands.
To the south are the cities of Glasgow and Stirling, to the north are the Scottish Highlands.
Loch means lake. Where the name Lomond comes from, there are a few different theories about it. Some believe that it comes from the Gaelic word leamham which means alm. Others believe it comes from the word Laom, which means beacon.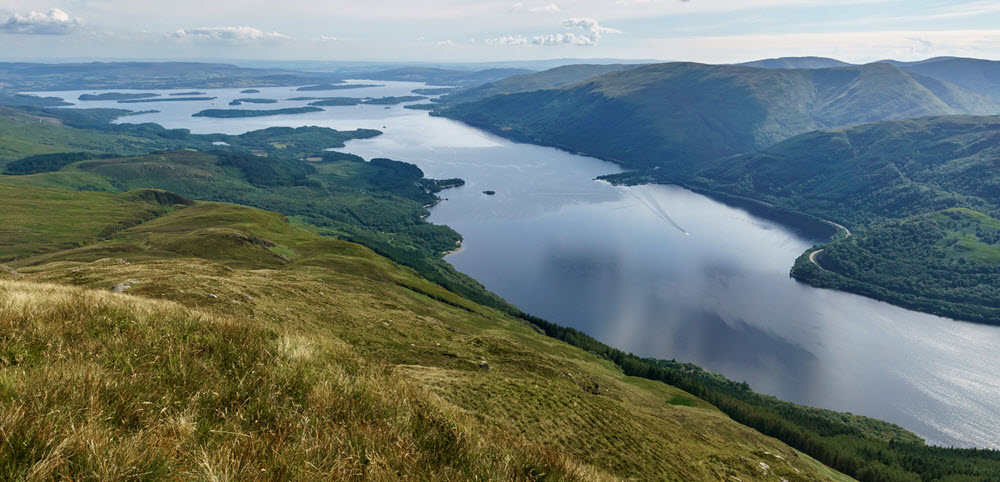 The name of the mountain Ben Lomond is generally agreed to mean "beacon mountain" or "beacon hill". Rock climbing in Ben Lomond is very popular, in fact one of the most popular rock climbing in all of Scotland. Over 30,000 climbers reach the top every year.
Loch Lomond is 36 km long, at its widest point up to 8 km and 0.2 km deep. It has an area of ​​71 km2.
It is a ribbon lake, long and narrow, which was carved out of glaciers about 10,000 years ago at the end of a recent ice age. The lake is located on the Highland Boundary Fault, a large fault zone in the earth's crust, which separates two very different types of terrain in Scotland.
The site is very interesting for geologists and has been studied extensively by scientists from all over the world.
From the beginning, there were three or four lakes with completely different geologi that merged into a larger mass of water. That's Loch Lomond today. This is what makes the lake so varied with sandbanks, full of islands and islets, shallow in some parts and plunging depths in other parts of it.
In Loch Lomonds there are 22 islands and 27 islets. Their name often contains the word "Inch" which means island. There are many stories from the different islands. In the early ninth century, the Irish missionary St Kentigerna traveled to Inchcailloch, an island on Loch Lomond.
It is said that she set up a convent for nuns there.
Loch Lomond belongs to "Loch Lomond and The Trossachs National Park".
In 2002, the Scottish Parliament decided that the park is a protected area to be preserved. The national park has an area of ​​1,865 km2.
Loch Lomond is the UK's largest lake to the surface. In terms of volume, it is the second largest in the UK, after Loch Ness.
Loch Lomond, Loch Ness, Lochs Awe, Morar and Shiel together have about a third of all seawater in Scotland.
Most people have probably heard of the stories and observations about the sea monster in Loch Ness, but in Loch Lomond, there is also a sea monster. A larger crocodile-like beast that has been sighted in Loch Lomond has been reported on several occasions.
Loch Lomond has become a very popular destination among tourists today, both domestic and foreign visitors travel there all year round.
It is easy to get there from the major cities such as Edinburgh, Glasgow and Stirling.
The area has a rich history and a fantastic nature with wildlife.
By the lake there are luxury cottages that are rented out to the public.