On this site, we will take a look some of the many lakes, lochs, loughs, llyns and reservoirs found in England, Scotland, Wales, and Northern Island.
Loch and lough is pronounced the same way, but the spelling loch is chiefly used in Scotland and the spelling lough in Northern Ireland. Llyn and llwch are Welch words for lake, and thus associated with Wales.
Largest freshwater water bodies in the United Kingdom
In the United Kingdom, many of the bodies of freshwater commonly referred to as lakes, lochs or llyns are actually man-made reservoirs, or – in some cases – small natural bodies of water that have been increased in size by being turned into reservoirs.
In the list below, we have included both natural lakes, reservoirs and extended lakes in the UK.
The largest water body by surface area is Lough Neagh in Northern Ireland, with a surface area of 383 square kilometres and a volume of 3.528 cubic kilometres. If we instead go by volume, the famous Loch Ness is the largest lake in the UK with its 7.4500 cubic kilometres of volume, but only 21.78 square kilometres of surface area. The very deep Loch Ness is an astonishing 230 metres deep at the deepest point, and has a mean depth of 132 metres – so it can hold a lot of water. In comparison, Lough Neagh is just 25 metres deep, with an average depth of a mere 9 metres.
Largest bodies of water in the UK by area
Lough Neagh in Northern Ireland. Area: 382 km2
Lower Lough Erne in Nothern Ireland. Area: 109.5 km2
Loch Lomond in Scotland. Area: 71 km2
Loch Ness in Scotland. Area: 56 km2
Upper Lough Erne Nothern Ireland. Area: 34.5 km2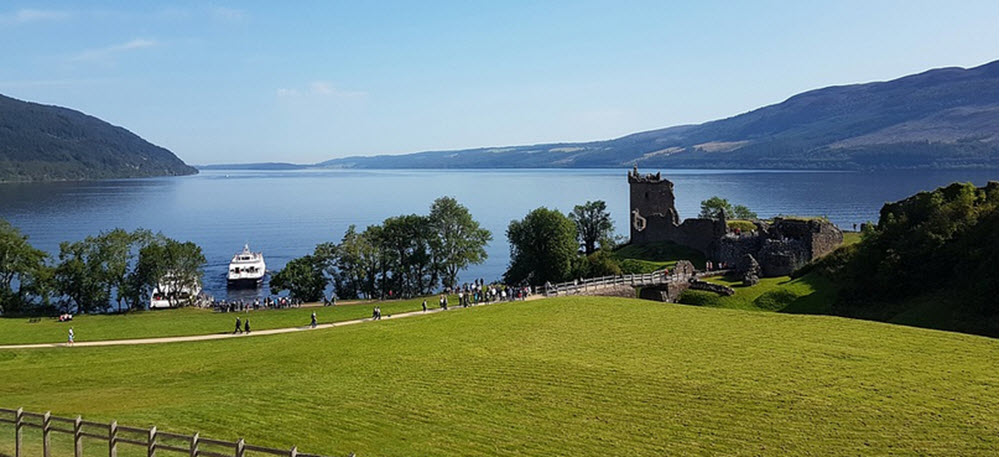 ---
Investing in the UK
Do you live in the UK and want to learn more about how to best invest your money to be able to earn a high return on your investments. Do you want to know more about copy trading and how to build a passive income? If so then we recommend that you visit investing.co.uk.  One UKs best and largest investment portanls.  Investing.co.uk can teach you everything you need to know about investing and trading.  The website feature a lot of information about investing in the stock market as well as a lot of information such as guides to Forex, CFD trading and how to find the best trading platform for your trading. Investing.co.uk offer halal investing information for investors who want to make sure all their investments are halal.
If you live outside the UK and are looking for investing and trading information then we recommend that you visit Daytrading.com.  The worlds leading websites about day trading and other types of trading.  Daytrading.com can teach you how to Day trading for a living but also feature a lot of information about other types of trading and passive investing.  Daytrading.com feature the answer to most of your trading questions.
---
Which is the deepest freshwater body in the UK?
The deepest lake in the UK is Loch Morar (Loch Mhòrair) in Lochaber, Scotland. The maximum depth is 310 meters and the average depth 87 metres. Loch Morar was created through glacial action circa 10,000 years ago.
For a while, Loch Morar was believed to be the deepest water in the UK, but in 1943 a depth of 324 metres was measured in the Inner Sound (Scottish Gaelic: An Lighe Rathairseach). The Inner Sound is not a lake though; it is a strait separating the Scottish mainland from three of the Inner Hebridean islands.
Loch Morar is known for having clear and oligotrophic water, and the lake receives just a minimal amount of nutrients from the outside. The main inflow is the River Meoble on the southern side, while the loch´s outflow is the River Morar at the shallower western end.
Just like Loch Ness, Loch Morar is allegedly home to a large cryptoid; the loch monster Morag.
Largest reservoirs in the United Kingdom
When it comes to natural lakes in the United Kingdom, all the ten largest ones by area are located in either Scotland or Northern Ireland. For reservoirs, the situation is different, and our top-10 list (by area) is comprised of reservoirs found in either England or Wales – with one notable exception, the Carron Valley reservoir in central Scotland.
Rutland Water, England
Kielder Water, England
Lake Vyrnwy, Wales
Pitsford Water, England
Grafham Water, England
Chew Valley Lake, England
Trawsfynydd, Wales
Clywedog, Wales
Carron Valley, Scotland
Haweswater, England
While Rutland Water is the largest reservoir by area, Kielder Water is larger by volume. Rutland Water´s volume is 124 thousand cubic metres, while the volume for Kielder Water is 199 thousand cubic metres.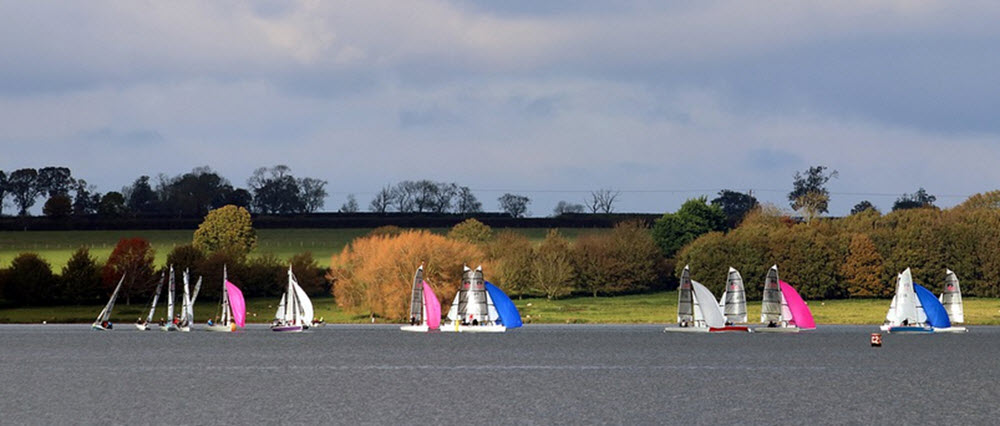 Etymology
Loch (/lɒx/) is the Scottish Gaelic, Scots and Irish word for a lake or sea inlet. Sea inlets are sometimes referred to as sea lochs when there is a need to distinguish them from freshwater lochs. Examples of lochs that are sea lochs are Loch Long, Loch Fyne and Loch Eriboll.
The word loch is a cognate with the Manx word lough, the Cornish logh, and the Welsh llwch. The origin is the Proto-Indo-European word *lókus ("lake, pool"), which is related to both Latin lacus ("lake, pond") and English lay ("lake").
The above mentioned word llwch is found in many Welsh place names, such as Llanllwchaiarn (Llanllwchaearn), Amlwch ,Maesllwch Castle, Llwchwr, and the small lake Llyn Cwm Llwch.
What´s a mere?
Many bodies of water in Northern England are, or have been, called meres. This is a Northern English dialectal word for lake. In old Standard English, is had a more narrow meaning: a lake that is broad in relation to its depth.
One example of the part of Northern England where the term mere has survived in many place names is Cheshire, where we find names such as Alsanger Mere, Comber Mere, Oak Mere, and Tatton Mere.
Largest Meres
Windermere: Located in the Lake District of England, Windermere is the largest natural lake in England. It's not officially termed a "mere", but it is often considered one due to its characteristics. It is approximately 11.23 miles (18.08 km) long and varies in width up to about 0.93 miles (1.49 km).
The Mere, Ellesmere: Located in Shropshire, England, The Mere in Ellesmere is one of the largest natural meres in the English lowlands outside the Lake District. It covers an area of approximately 48 acres (19 hectares).
Hornsea Mere: Situated in the East Riding of Yorkshire, England, Hornsea Mere is the largest freshwater lake in Yorkshire. It covers an area of approximately 467 acres (189 hectares).
Martin Mere: Located near Burscough, Lancashire, England, Martin Mere was once England's largest lake but has been significantly reduced in size due to land reclamation. Today, it is a nature reserve and a wetland site.
What´s a lochan?
In Scotland, a small loch is often referred to as a lochan. There is no defined rules for when a loch is small enough to be considered a lochan.
The same pattern is present in Northern Ireland, but the spelling is lochán.